No matter where you live, it's vital to get rid of these nasty, pesky roaches! Now that you have an inkling as to how you can identify them, you can get rid of them. However, it's not all that easy to eliminate these roaches completely. Once you've gotten rid of them first, you'll have to put in some effort to make sure they don't invade your home again!
In addition, it's equally important to also kill all of the young roaches so that their population in your house reduces drastically. Roaches never dwell in clean places, so they can bring in a lot of bacteria into your home, which can be quite disgusting. Apart from the diseases they spread, they also secrete compounds that have a mild odor. Time is of the essence since these buggers can reproduce fairly quickly, so let's get to it!
There's a chance that your first few attempts to get rid of your nasty friends may not eliminate them completely. There are various ways in which they can gain entry into your house, which makes their intrusions unpredictable. Before you think about the cure, I would suggest thinking about preventive methods. This especially applies to people who want to prevent roaches from entering their homes, as opposed to those whose houses are already roach-infested. In some cases, it will take up to 8 weeks to eliminate them, but if you're lucky, it can take as little as 2 weeks. Therefore, it's better to use preventive methods before anything else.
Prevention:
An effective method to prevent roach infestations is to maintain a clean home. Roaches cannot survive in clean areas and thus, if you're clean, it makes it very difficult for them to continue with their antics. Clean each and every corner of your house and make sure it stays that way. Sanitation is very important in order to prevent roaches from invading your space.
Be sure not to drag any roaches home with you! If you spend some time in an unclean environment, be sure to check all your bags. Regardless of whether you are at a friend's home, a hotel or a warehouse, if there is a roach infestation it's better to be safe than sorry. It is very possible for roaches to accompany you back to your home. So, as a preventive method, check everything to make sure they are clean before returning to your abode.
Make your home unsuitable for them. Make a conscious effort not to leave any food outside the refrigerator at night. Also, don't forget to wash your dishes! Unwashed plates lying in the sink can turn out to be a huge party for these pests.Since they love warm places, they spend their time in bathrooms and kitchens more than the other rooms in the house. Also, you need to clean your kitchen cabinets by wiping them down from time to time.Seal all your food containers, ensuring that the roaches can't destroy them.I understand that it's easy to preach than to practice, but you need to remember that if these roaches enter your home, they make it a point to stay with you for a long time.
Surprisingly, roaches even feed on other miscellaneous non-food items, especially paper products. Items such as newspapers, books, cardboard, paper bags, etc. can easily absorb a particular pheromone that roaches give off. This pheromone relays a message to other roaches, informing them of the whereabouts of their comrades. It's also used as a guiding system so that roaches can make their way from place to place. That being said, it's important that you avoid letting many of these paper products pile up anywhere in your house!
Leaving food crumbs on the ground is essentially a direct invitation for roaches. Allocate a single room to eat your food instead of eating in multiple rooms. It can be difficult to mop your floor every day, but I would highly suggest doing it at least three times per week to make sure it's clean. After mopping, don't forget to mop it dry since roaches will use the water to survive. Be sure to use a minimal amount of water to avoid splashing and spilling too much. Using your handy vacuum cleaner is also a great idea. Not only does your vacuum cleaner help you pick up all of your food crumbs, but it also helps you eliminate eggs and shed skins. The more you vacuum, the more likely roaches will leave your house alone.
If you live in a warmer climate, you'll probably find it a bit easier to get rid of roaches rather than preventing them. As the climate gets hotter, it becomes impossible to get rid of them and as a result, roaches thrive in places like Florida. However, even if you reside in a location with warm climates, you need to maintain a clean, dry home. Remember that 'dry' is the keyword here, because roaches find it difficult to survive if your home is dry. As an added measure, you can also wipe your sinks, showers and bathtubs dry at night before you to go to bed.
Roaches love to reside in trash cans and other dirty areas, so you need to pay attention and remove trash cans and keep your yard and other places clean.
I mentioned that roaches love hotter climates, but the humidity also plays a major role. Simply put – roaches tend to live in places that have high humidity. Therefore, you can control the humidity by using a dehumidifier if you want to prevent roaches from entering your house.
Roaches can't survive forever without water. However, they can still survive for at least a week without water supply. Of course, you aren't supplying any water directly to them, but they are smart enough to figure out where they can find it.The main source is usually a leak somewhere. Since there are various places where water can leak in your home, you need to find them all and stop leakage, if any. Check your shower heads, garden hose, taps, hose bibs, meter lines and toilets to see if there are any leaks. Find a way to quickly fix all the leaks in your house or hire a plumber to do the job for you.
Roaches usually enter through cracks, so it is very important to find all the cracks in your home and seal them, thus blocking their entrance. It's important to seal the cracks on the exterior as well as the interior of your house to block every pathway. Of course, this will take some time, but this tactic is the most effective preventive method since you are eliminating their breeding and hiding locations. In addition, check all your kitchen cabinets, floors and walls to identify any cracks and seal them up completely.
Trim plants that are around your building to increase the light circulation, particularly near vents as this reduces the possibility of dense plants growing there. Since roaches love residing in warm, dark places, trimming plants will reduce their population considerably. In addition, having gravel areas that are at least 10 to 12 inches wide surrounding the perimeter of the buildings can help keep roaches away.
Species
There are about 4,600 species of cockroaches, but only six of them commonly become irritating pests: the German cockroach, the Oriental cockroach, the American cockroach, the Turkestan cockroach, the Smoky brown cockroach and the Brown-banded cockroach. Indeed, there are about 4,594 other species of roaches other than these six; however, they don't normally take refuge within the human habitat. Every once in a while you may find one of these cockroaches crawling into your house when temperatures rise, but have no fear; it probably isn't your typical harmful pest that should be worried about.
Identification
Identifying the specific type of cockroach plays a key role in choosing the correct method to eliminate it. Belonging to the super order Dictyoptera, cockroaches are polynepterous insects that grow into medium to large sizes. It is considerably easy to spot a cockroach, and while some roaches have a noticeable odor, others are odor-free. These flattened, large, broad pests have long antennae and apronotum, which is the visible section behind the roach's head that is shaped almost like a shield.
Many people confuse beetles with cockroaches,though there are some distinct features that separate beetles from roaches. For instance, while beetles have hard forewings, also known as Elytra, roaches have wings that consist of various membranes. However, small cockroaches that have yet to become adults lack wings.
Cockroaches are nocturnal insects and tend to separate from their group when they are disturbed. Among the six species of roaches mentioned above, the Brown-banded and the German cockroaches are the ones you should worry about the most! These two species have a tendency to invade buildings and homes inhabited by people. The remaining four species live outdoors and rarely intrude into buildings.
I will now go over the various types of roaches that you should be looking out for. Remember, identification is a crucial part in determining the appropriate method of extermination!
The German cockroach
Size: 0.5 inches.
Color: Light brown with about two stripes on their pronotum.
Dwelling Locations: Places with storage and food areas, homes, bathrooms, kitchens, warehouses etc.
Among all the species of cockroaches, the German cockroach is considered the most harmful since it can invade numerous buildings and structures, especially those that contain multiple families. Needless to say, this cockroach puts all the other cockroaches in bad light thanks to its ability to destroy homes.
These cockroaches thrive in places with warmer temperatures and studies have shown that they can't inhabit structures or places with cold temperatures. In fact, it is commonly known that these roaches can't survive in places that aren't inhabited by humans. For the most part, the German cockroaches dwell in locations that contain an abundant supply of water, food and heat.
The Brown-banded Cockroach
Size: 0.5 inches.
Color: Adult males are light golden-tan and females are usually dark brown. Both male and female adults have colored bands on their abdomen, sides of their pronotum and wings.
Dwelling Locations: Kitchens, clutter, hollow legs of any furniture, warm areas etc.
The Supella longipalpa, otherwise known as the Brown-banded cockroach isn't as popular or as destructive as the German cockroach. These pests seek warm hiding places and nest in places where the temperatures are at least 80 degree F. Their favorite locations are warm places such as electrical components in televisions, refrigerators and radios.
These roaches love starchy food and are often seen at places that store paper (for example, offices). Since they prefer locations that aren't air conditioned, they search for hospitals, warehouses, animal rearing facilities and kitchens. Adult males will fly when they are disturbed, but females don't fly. Females glue their egg cases (which are typically a quarter-inch long) to ceilings, closets, spaces beneath furniture and other dark places. The eggs incubate for many weeks before they hatch and every female cockroach (including her children) has the capacity to produce more than 600 new roaches every single year! That's a lot of cockroaches!
The Oriental Cockroach
Size: 1.25 inches.
Color: Adult males are almost black in color and have wings that are usually shorter than their body. Adult females are also black in color but their wings are commonly underdeveloped.
Dwelling Locations: Places that are damp and cool are usually preferred. These roaches love areas such as garages, drains, woodpiles, ivy and basements.
The Blatta Orientalis, otherwise known as the Oriental cockroach is oftentimes referred to as either the black beetle, or a water bug. Found in damp, wet areas, these roaches survive in temperatures that are colder and often multiply to huge numbers when given the chance.
These roaches tend to move slower compared to the other species of roaches and come out at night in search for food within buildings and other damp areas. Oriental roaches can't fly and don't have the ability to walk on vertical, smooth surfaces. Therefore, they are commonly seen stuck in tubs and sinks. Similar to Brown-banded roaches, the Oriental roach also deposits egg cases which are dark red or brownish in color.
The Smoky brown Cockroach
Size: 1.5 inches.
Color: Nymphs are usually dark brown in color. Their pronotum is lightly darker than their body and is almost black.
Dwelling Locations: Places that are damp and cool are usually preferred. They also like trees, attics, shrubs, planter boxes and other vegetation.
Similar to Oriental roaches, these guys love to reside in garages, basements and water meter boxes. You'll also find them dwelling in trees and other vegetation. However, Smokybrown roaches are also commonly found in attics since they love the upper levels of buildings, unlike others that prefer lower levels.
Females are known to carry their egg cases, which are dark brown and blackish in color. They carry it for an entire day before delivering the goods.Each egg case can be at least 3/8th of an inch long. The cases typically produce at least 40-45 nymphs when they hatch. Hatching can occur anywhere within 24-70 days, depending on the temperature.
The American Cockroach
Size: 2 inches.
Color: Adults are usually reddish-brown in color. Their pronotum has a lighter color when compared to the body.
Dwelling Locations: Places that are warm and humid are usually preferred. They also love outdoor locations such as zoos, animal rearing facilities, storm drains, steam tunnels and sewers. The Periplaneta Americana, also known as the American cockroach, loves environments that exceed at least 82 degree F. Commonly dwelling in zoos and other warm locations, they are known to travel from sewers to buildings and reside in lower levels. Adult females attach their egg cases to protected surfaces, allowing them to incubate for at least 2 months.
The Turkestan Cockroach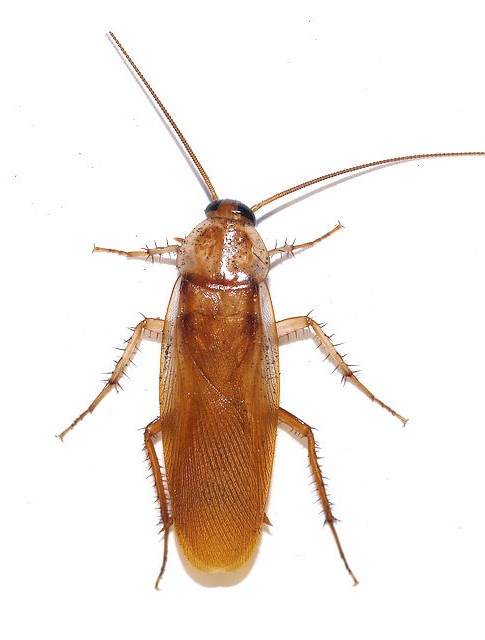 Size: 1 inch.
Color: Adult females have colored markings that are cream in color. These markings are present behind its head and around the wings, which are short and have a yellow-colored tan. The wings also have stripes around the edges.
Dwelling Locations: The Blattalateralis, also known as the Turkestan cockroach, is found within concrete cracks, litters of leaves, plants and other compost piles. Also found in sewer systems, they are generally mistaken with roaches from other species. Adult females are very similar to Oriental roaches. The nymphs are usually dark red and black.
The Field Cockroach
Size: 0.5 inches
Color: Adults are usually grayish or olive-brown in color. Additionally, they have two stripes on the pronotum, including stripes between their eyes.
Dwelling Locations: Similar to Turkestan roaches, even these little guys like to reside in leaf litters and other plant debris.  The Blatellavaga, also known as the field cockroach, is usually found outdoors but may invade your indoor area when the temperature is too hot to bear. They are olive in color, albeit darker, when compared to German roaches; however, they are commonly mistaken with them. It takes about 3 months for a nymph to grow into an adult cockroach. Adult female field roaches tend to carry the egg cases, each case having the capacity to produce at least 30-40 roaches.
Our Complete Rodent Control program focuses on trapping and removing the existing rodents and preventing new rodents and mice from re-entering your home. We can sanitize, remove the soiled insulation and re-insulate your home.
Treatment methods include:
-Inspect and seal entry points such as holes, crevices, and gaps larger than ¼ inch
-Set traps in already rodent-infested areas
– Eradicate vectors such as fleas, mites, and other insects commonly living with rodents
-Sanitize the property after rodents have been eliminated in case of long-term contamination
Get a Free Quote
Call or click for a free inspection of your home,
(954) 665-9206
Indoor and perimeter pest control, lawn spraying, tree and shrub spraying services. Our mission is to create a continually expanding, satisfied customer base by delivering expert quality service that people can depend on for their homes and businesses.
-All Natural and Organic Certified Products
-Pet Safe
-Free Inspection & Estimate
-Results 100% Guaranteed
-Same Day Service, No Extra Charge
-Locally Owned & Operated
-20 Years Experience
-Fully Trained, Licensed, & Insured Technicians
-Voted Best Pest Control Company 2020
For a free inspection call or click
(954) 665-9206
Indoor and perimeter pest control, lawn spraying, tree and shrub spraying services. Our mission is to create a continually expanding, satisfied customer base by delivering expert quality service that people can depend on for their homes and businesses.
-All Natural and Organic Certified Products
-Pet Safe
-Free Inspection & Estimate
-Results 100% Guaranteed
-Same Day Service, No Extra Charge
-Locally Owned & Operated
-20 Years Experience
-Fully Trained, Licensed, & Insured Technicians
-Voted Best Pest Control Company 2020
For a free inspection call or click
(954) 665-9206
Contact
us today and let Apache Pest Control take control of your indoor and outdoor area
-All Natural and Organic Certified Products
-Free Inspection & Estimate
-Same Day Service, No Extra Charge
-Locally Owned & Operated
-Fully Trained, Licensed, & Insured Technicians
-Voted Best Pest Control Company 2020
For a free inspection call or click
https://www.apachepestcontrol.com/
#pestcontrolweston
#pestcontrol
#pestcontrolservice
#outdoorpest
#pest
#bugs
SATURDAY POST
🏆 VOTED BEST PEST CONTROL🏆
-All Natural and Organic Certified Products
-Pet Safe
-Free Inspection & Estimate
-Results 100% Guaranteed
-Same Day Service, No Extra Charge
-Locally Owned & Operated
-20 Years Experience
-Fully Trained, Licensed, & Insured Technicians
-Voted Best Pest Control Company 2020
🔎 For a free inspection call or click🕷🐜
📞 CALL: (954) 665-9206
https://www.apachepestcontrol.com/
Trust the lawn care experts  at Apache Pest Control to  restore your lawn

Get a Free Inspection and a Fast Quote from Broward's Best Pest Control
PEST CONTROL FOR INSIDE AND OUTSIDE YOUR HOME
enjoy the cool breeze and sunny days of your backyard with a bug-free lawn.
VOTED BEST PEST CONTROL
-All Natural and Organic Certified Products
-Pet Safe
-Free Inspection & Estimate
-Results 100% Guaranteed
-Same Day Service, No Extra Charge
-Locally Owned &
Mosquitoes and Ticks in the Backyard
Some of the most common outdoor pests, mosquitoes and ticks can plague any yard, especially those near wooded areas. Primarily feeding on humans, these bugs are sure to make an appearance at any backyard barbecue. Capable of spreading debilitating diseases such as West Nile virus and Lyme disease, mosquitoes and ticks pose a far greater threat than just their bites.
Stinging Insects in the Backyard
A number of stinging insects such as yellowjackets, wasps and hornets can wreak havoc on any outdoor activity. The National Pest Management Association reports that stinging insects send more than half a million people to the emergency room every year. These pests build nests in a variety of places around the house, such as overhangs, eaves, the underside of porches and decks, in trees and along fence lines, and in ground nests around the yard.
Ants in the Backyard
There are more than 700 ant species found in the U.S., so it is not surprisingly that homeowners may stumble upon an ant hill or two in the backyard. These backyard bugs are social insects that typically live in underground colonies. Many types of ants like Argentine ants and pavement ants build bests beneath plants and sidewalks. If you live in the southern United States, you are more likely to come in contact with red imported fire ants (RIFA), especially in landscaping in the backyard. Fire ants will sting if their nest is disturbed, and the sting can be quite painful.
Scorpions in the Backyard
While residents in the northeastern part of the country need to worry about blacklegged ticks, those who live in the arid southwest should be on the lookout for scorpions, especially in the backyard. Scorpions prefer dry habitats and will dig burrows in the soil for shelter. During periods of hot weather, scorpions may enter homes through wall voids. Scorpions are known to sting as a defense mechanism or to kill prey. Some scorpion species possess dangerous venom that can be fatal.
Fleas in the Backyard
Attracted to warm-blooded hosts, fleas typically make their way to yards in search of people and pets. They can also transport themselves on rodents and other wild animals, quickly making their presence known upon arrival. Although they have a short lifespan of about 100 days, females can produce up to 400-500 offspring during that time.